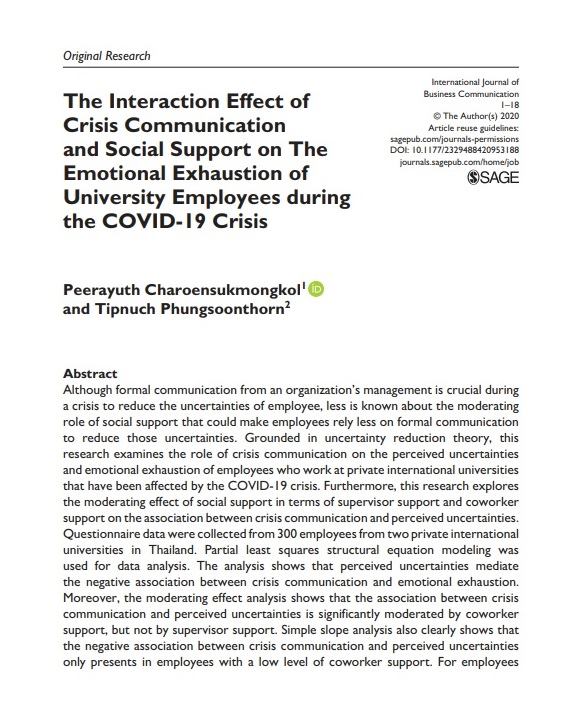 The faculty of ICO NIDA, Assoc. Prof. Dr. Peerayuth Charoensukmongkol, and the former PhD student of ICO NIDA, Dr. Tipnuch Phungsoonthorn, recently published their COVID-19 research in the International Journal of Business Communication, which is the journal ranked in the SCImago's Quartile 1 and the Scopus' Top 11 percentile.
     Based on the case of two private international universities in Thailand, their research shows that that employees who obtained high-quality crisis communication from the management of their university tended to show less uncertainty regarding the impacts of the COVID-19 crisis and subsequently experienced low emotional exhaustion. However, their research additionally discovers that for employees with high levels of coworker support, crisis communication did not have impact on reducing uncertainties. This implies that crisis communication from organizations might be essential only for employees who lack coworker support. Perhaps, employees with coworker support can depend on their coworkers as a source of information to reduce the uncertainties experienced.
     Given that the COVID-19 outbreak has greatly affected employees' work and psychological wellbeing, their research finally recommends that communication from the universities' management regarding updates on the crisis and how the universities will address or ease employees' concerns and uncertainties during the crisis could be crucial in helping employees cope more effectively. In addition, support that employees obtain from their coworkers could be crucial for them to deal with the uncertainties caused by the crisis when the quality of crisis communication from the universities is ineffective or inadequate to ease their concerns.
The full article can be viewed for free at:
https://journals.sagepub.com/…/10.1177/2329488420953188
Reference:
Charoensukmongkol, P., & Phungsoonthorn, T. (2020), The Interaction Effect of Crisis Communication and Social Support on The Emotional Exhaustion of University Employees during the COVID-19 Crisis, International Journal of Business Communication.
doi:10.1177/2329488420953188