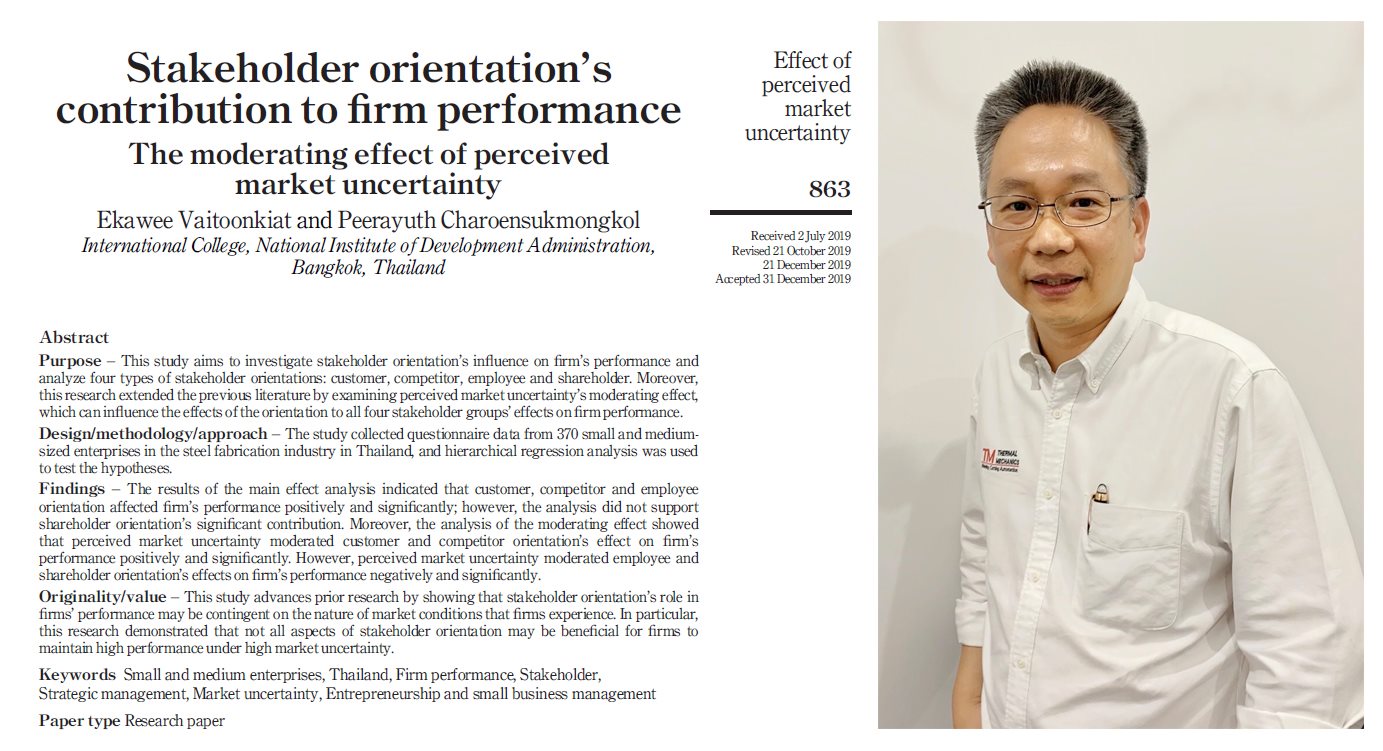 Mr. Ekawee Vaitoonkiat, a recent Ph.D. graduate of ICO NIDA, published the second paper from his dissertation. The paper is published in the "Management Research Review", which is ranked in the "SCImago Quartile 2" in the area of Business, Management and Accounting.
     His research analyzes stakeholder orientation's effect on firms' performance using the case of SMEs in the steel fabrication industry in Thailand. The moderating effect of market uncertainty is also taken into consideration. His analysis shows that not all stakeholder groups provide significant benefits for firms. Under high perceived market uncertainty, the emphasis that firms place on external stakeholder groups, including customers and competitors, tended to be particularly important in their ability to maintain high performance. On the other hand, the emphasis that firms place on internal stakeholder groups, including employees, tended to impede firms from maintaining high performance under high perceived market uncertainty.
     His research recommends that SMEs must consider the market environment conditions carefully when they develop their stakeholder management strategy. Given that SMEs have limited resources to manage their operations and all stakeholder groups' interests, it is best for them to focus only on key stakeholder groups that are the most critical to their effective performance under unfavorable market conditions.
     His research was under close supervision and guidance of his adviser, Assoc. Prof. Dr. Peerayuth Charoensukmongkol.
Reference
Vaitoonkiat, E., & Charoensukmongkol, P. (2020). Stakeholder Orientation's Contribution to Firm Performance: The Moderating Effect of Perceived Market Uncertainty, Management Research Review., 43(7), 863-883. https://doi.org/10.1108/MRR-07-2019-0296