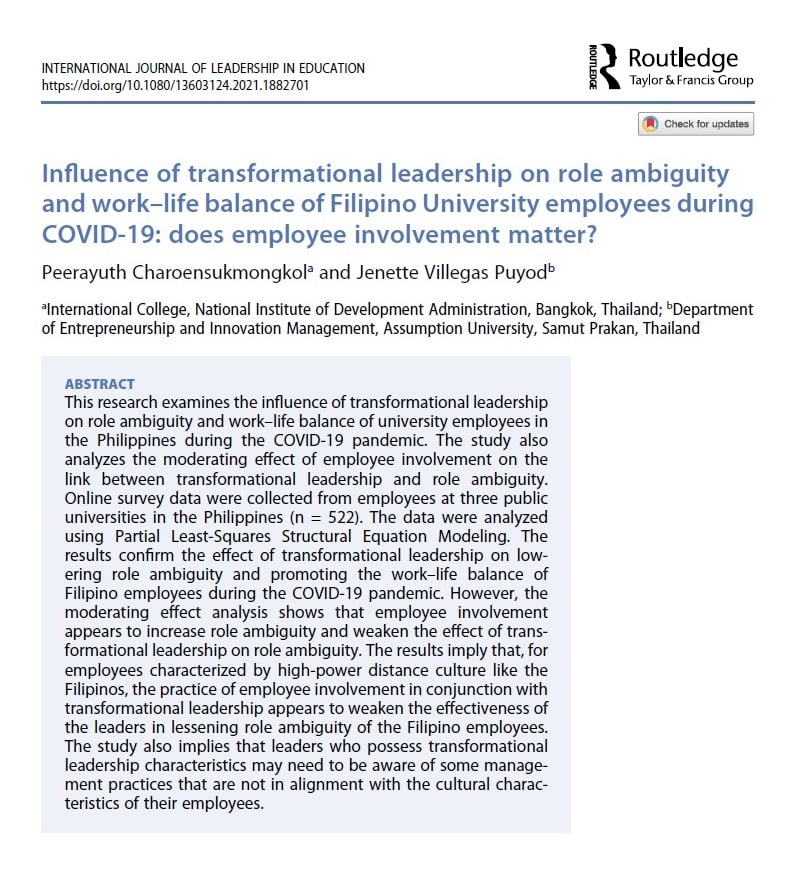 One particular impact that employees inevitably experience when they have to work from home (WFH) during the COVID-19 pandemic is the lack of "Work–Life Balance". Basically, when people work at home, they tend to dedicate more time into working and simply lose track of time due to the lack of boundary between work and home. One possible reason that creates lack of Work–Life Balance is the role ambiguity problem that employees experienced when they WFH. In particular, role ambiguity seems to be a common problem for WFH employees because moving to teleworking from home lead to unclear information, instructions, and expectations regarding the tasks that employees need to perform. This situation tends to make employees to experience confusion regarding how to perform effectively with increasing workloads, which can potentially lead them to suffer from lack Work–Life Balance as a result.
The evidence about the role ambiguity problem and the lack of Work–Life Balance during the COVID19 pandemic has been documented in the recent research conducted by the faculty of ICO NIDA, Assoc. Prof. Dr. Peerayuth Charoensukmongkol (coauthoring with Dr. Jenette Villegas Puyod), which is published in the International Journal of Leadership in Education (Scimago Quartile 1).
Their study, which collected data from employees at three public universities in the Philippines, found some evidence regarding the negative effect of role ambiguity that university employees experienced when they WFH during the COVID-19 pandemic. The role ambiguity problem was found as a key factor that created lack of work–life balance among the employees. However, their study also found that employees who worked for the supervisor possessing transformational leadership characteristics tended to experience less role ambiguity and tended to show higher work–life balance. However, their research additionally indicates that the management policy that involved employee to take part in decision making was not recommended during the WFH period, as it tended to create excessive burden that increased role ambiguity of the employees.
In the end, their study suggested that transformational leadership behaviors of people who take a managerial role in the workplace are required during the crisis to help employees have a clear understanding of how to deal with uncertainty in their work roles and responsibilities. In particular, this type of leaders will be able to provide assistance and support to help employees have clear understandings about how to deal with issues from the crisis, thereby facilitating the employees to maintain a good work–life balance as a result.
Reference:
Charoensukmongkol, P., & Puyod, J. V. (2021), Influence of Transformational Leadership on Role Ambiguity and Work-Life Balance of Filipino University Employees During COVID-19: Does Employee Involvement Matter?, International Journal of Leadership in Education. https://doi.org/10.1080/13603124.2021.1882701