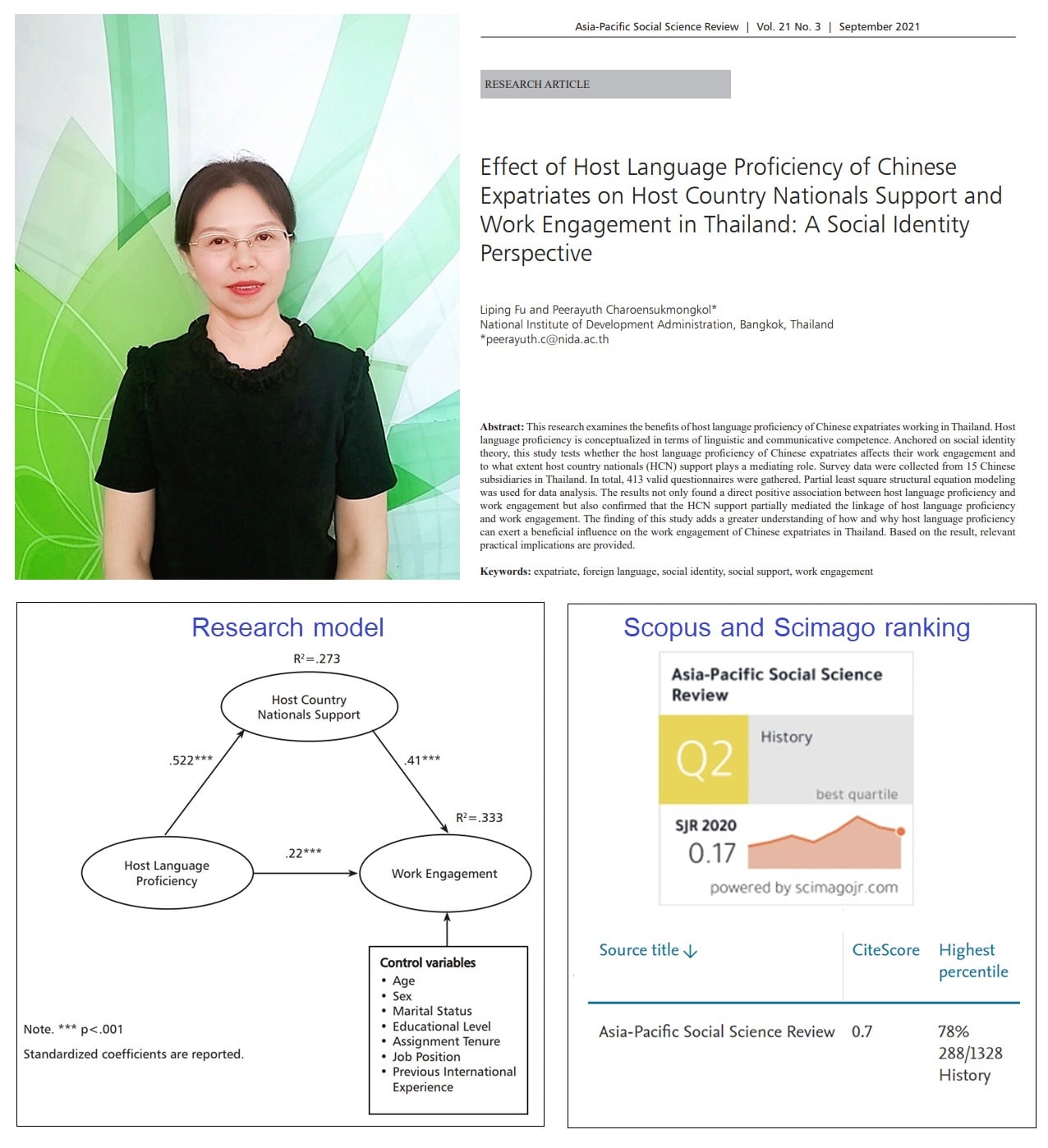 Ms. Liping Fu (Maria), a recent Ph.D. graduate of ICO NIDA, published the "second paper" from her dissertation. This paper is published in the "Asia-Pacific Social Science Review", which is ranked in the "SCImago Quartile 2" and "Scopus top 22 percentile".
Her research applies the "Social identify theory" to explain the essential role of host language proficiency in helping the Chinese expatriate working in Thailand to obtain more social support from Thai coworkers and to improve their work engagement.
From the analysis of survey data collected from 413 Chinese expatriates in 15 subsidiaries in Thailand, her study found that Chinese expatriates who were proficient in Thai communication could establish close relationships with Thai coworkers. The social support delivered by Thai coworkers subsequently helped expatriates to engage effectively in their international assignments.
Based on the findings, her study recommends that MNEs should pay special attention to host language proficiency, rather than ignoring it and adopting the assumption that English has become the common language in the world. Therefore, host language proficiency should be considered as a linguistic strategy when MNEs plan to localize their business operations in a particular foreign country.
Her research was under close supervision and guidance of her thesis adviser, Assoc. Prof. Dr. Peerayuth Charoensukmongkol.
Reference: Fu, L., & Charoensukmongkol, P., & (2021), Effect of Host Language Proficiency of Chinese Expatriates on Host Country Nationals Support and Work Engagement in Thailand: A Social Identity Perspective, Asia-Pacific Social Science Review, 21(3), 180 – 195.
The paper can be downloaded from http://apssr.com/wp-content/uploads/2021/09/RA-13.pdf