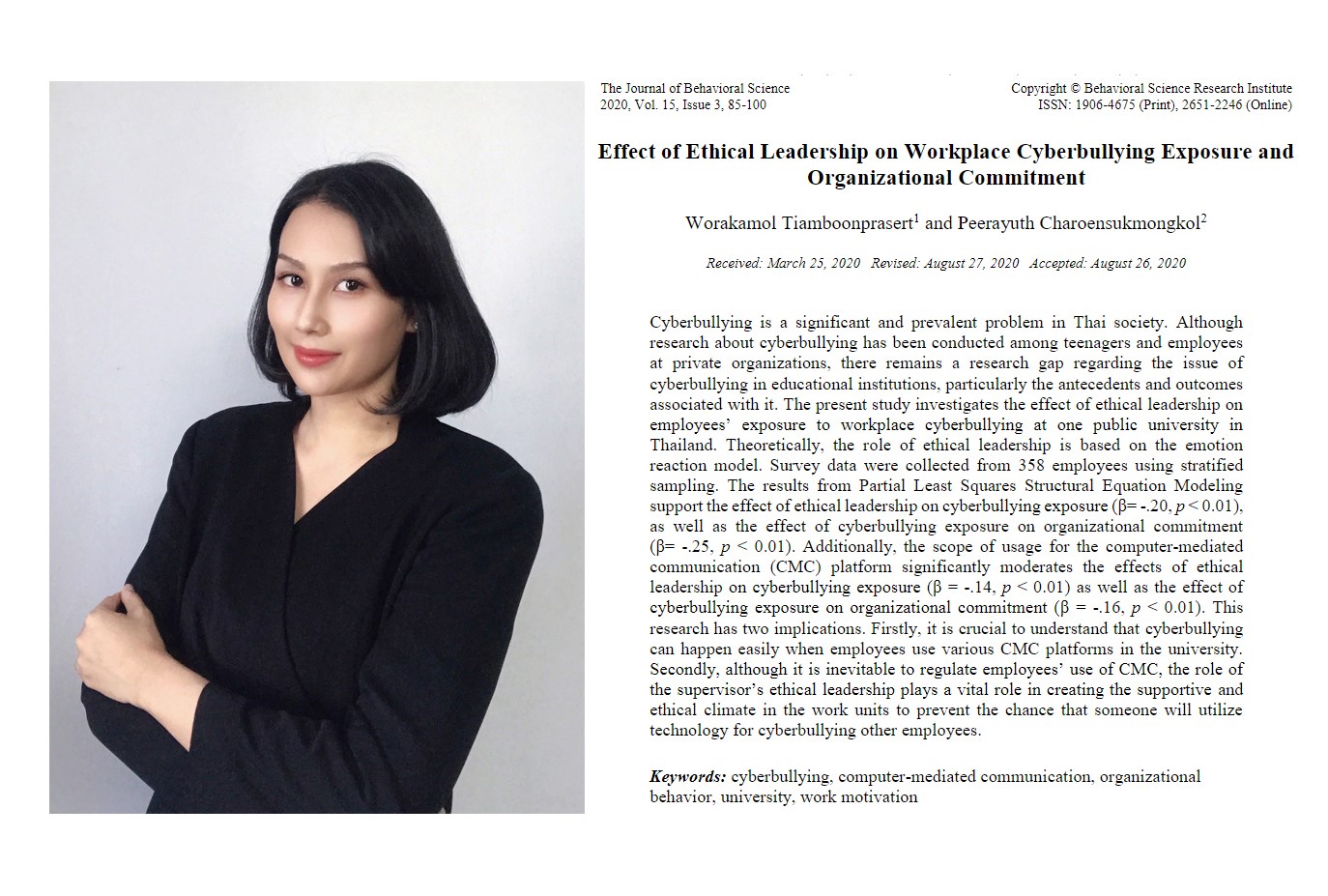 Ms. Worakamol Tiamboonprasert, a recent Ph.D. graduate of ICO NIDA, published part of her dissertation in the "The Journal of Behavioral Science", which is ranked in the "SCImago Quartile 4" in the area of Applied Psychology.
     Her research investigates the effect of ethical leadership on employees' exposure to workplace cyberbullying and the subsequent impact on organizational commitment. The analysis is based on survey data collected from 358 full-time employees at one public university in Thailand. Her study found that employees who work under the supervisor who exhibits a high degree of ethical leadership characteristics have less exposure to cyberbullying in the workplace. Moreover, less exposure to cyberbullying also subsequently affect organizational commitment. Interestingly, these impacts only present for the group of employees who use a broader scope of the computer-mediated communication platform.
     In the end, her study suggests that although it is inevitable to regulate employees' use of computer-mediated communication, supervisor's ethical leadership might play a vital role in creating the supportive and ethical climate in the work units to prevent the chance that someone will utilize the technology to cyberbullying other employees. Thus, the management of the university must promote ethical behaviors of supervisors to prevent the occurrence of cyberbullying and the effect that may follow.
     Her research was under close supervision and guidance of her thesis adviser, Assoc. Prof. Dr. Peerayuth Charoensukmongkol.
Reference
Tiamboonprasert, W., & Charoensukmongkol, P. (2020). Effect of Ethical Leadership on Workplace Cyberbullying Exposure and Organizational Commitment . The Journal of Behavioral Science, 15(3), 85-100. Retrieved from https://so06.tci-thaijo.org/inde…/IJBS/article/view/243966