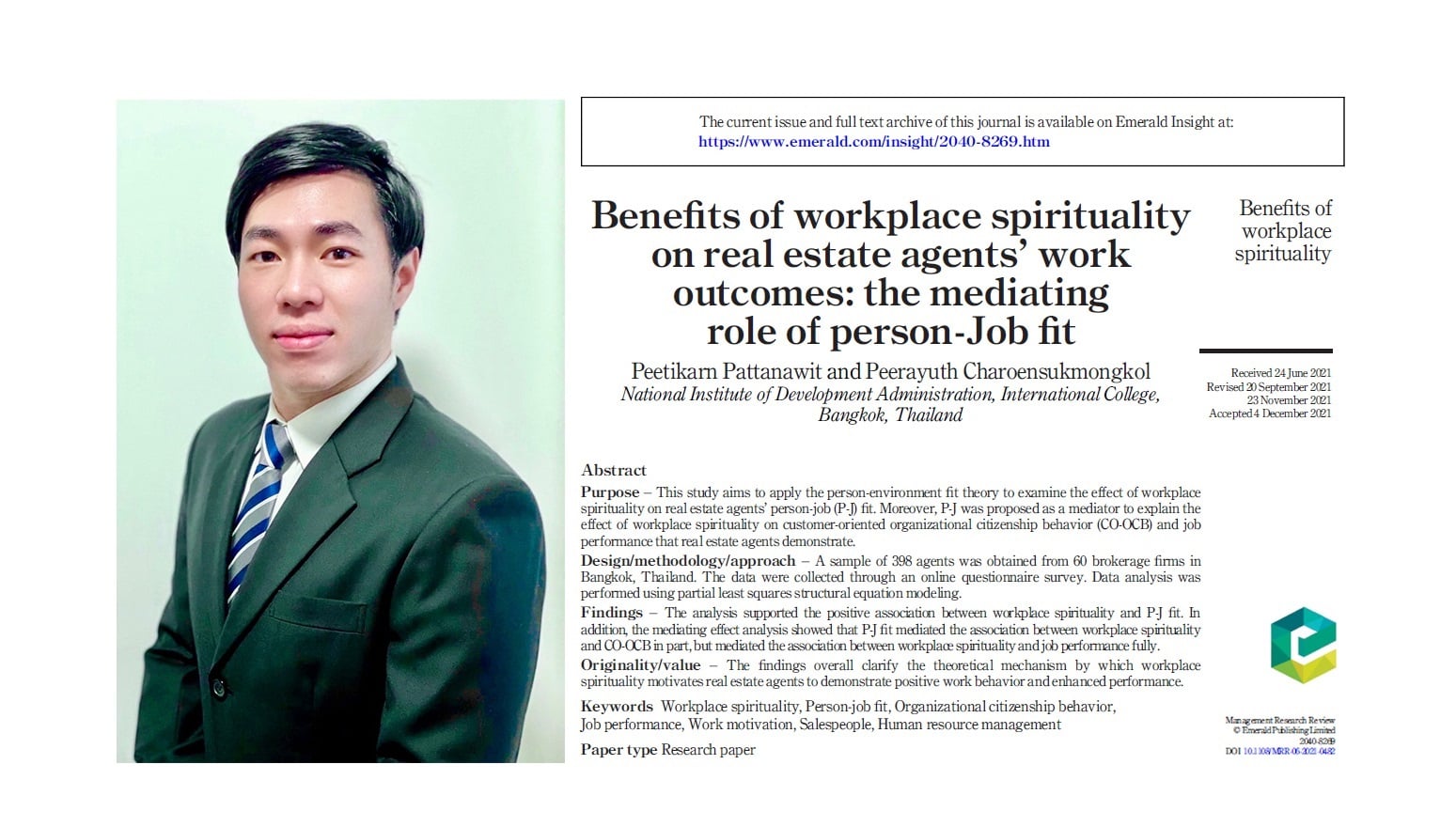 Mr. Peetikarn Pattanawit, a Ph.D. candidate of ICO NIDA, recently published part of his dissertation in the "Management Research Review", which is the journal ranked in the "SCImago Quartile 2" and the "Scopus Top 21 percentile".
     The key tenet of his research is about work motivation of real estate agents. Basically, the real estate industry has been characterized as a sector that has a high turnover rate compared to others. Although the opportunity to make substantial commissions appears to tempt people to choose this career, many of them seem to have low intrinsic motivation and do not see the meaning in the tasks that they perform. Due to this problem, his research was conducted to examine what characteristics of the workplace may be able to motivate real estate agents intrinsically and help them develop a sense of meaning in their work.
     Theoretically, his research applies the person-environment fit theory to verify the effect of "Workplace spirituality" on real estate agents' person-job (P-J) fit, customer-oriented organizational citizenship behavior (CO-OCB) and job performance that real estate agents demonstrate. Fundamentally, "Workplace spirituality" represents the characteristics of the work environment that allow employees to discover the meaning in their work, develop strong connections with other organizational members, and establish an alignment between their core beliefs and the organization's values.
     From the analysis of the survey data collected from 398 agents working at 60 brokerage firms in Bangkok, his results showed that real estate agents working in an environment that had a high level of workplace spirituality tended to demonstrate a high level of P-J fit. The greater their P-J fit, the more the CO-OCB and greater the job performance they demonstrated.
     In the end, his research offers some recommendations for human resources management in brokerage firms that could help them enhance their agents' work motivation and performance. The management is recommended to develop and maintain an organizational environment that fosters meaningful work, a sense of community and alignment with organizational values. These practices are expected to help the agents acquire the sense of workplace spirituality, which can enhance their P-J fit subsequently and motivate them intrinsically to be more enthusiastic and more productive in performing their sales tasks.
     His research was under close supervision and guidance of his thesis adviser, Assoc. Prof. Dr. Peerayuth Charoensukmongkol.
Source:
Pattanawit, P., & Charoensukmongkol, P. (2022). Benefits of Workplace Spirituality on Real Estate Agents' Work Outcomes: The Mediating Role of Person-Job Fit. Management Research Review. https://doi.org/10.1108/MRR-06-2021-0482