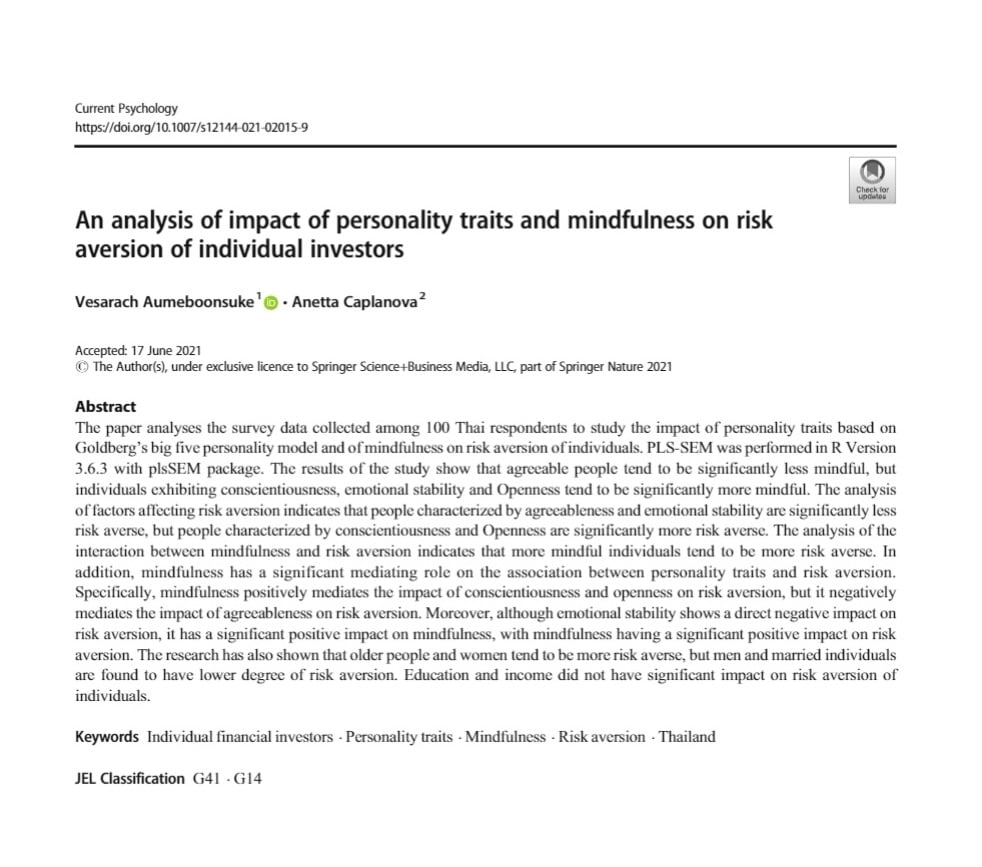 The recent research of the faculty of ICO NIDA, Assoc. Prof. Dr. Vesarach Aumeboonsuke (coauthoring with Prof. Dr. Anetta Caplanova) shows that mindfulness and personalities of investors can affect their risk aversion.
Their research analyses the survey data collected among 100 Thai individual investors. The results show that agreeable people tend to be significantly less mindful, whereas individuals exhibiting conscientiousness, emotional stability and openness tend to be significantly more mindful. Moreover, the analysis of factors affecting risk aversion indicates that people characterized by agreeableness and emotional stability are significantly less risk averse, but people characterized by conscientiousness and openness are significantly more risk averse. Lastly, their research found that older people and women tend to be more risk averse, but men and married individuals have lower degree of risk aversion.
Their research provides more understanding about the role of psychological characteristics and socio-demographic factors that can influence trading behavior of investors. This knowledge might be useful for formulating appropriate regulatory practices (for example, by using behavioral nudges aimed to improve investment outcomes of individual investors and to mitigate undesirable divergence of investment behavior of individual investors from rationality).
Reference:
Aumeboonsuke, V., Caplanova, A. (2021). An analysis of impact of personality traits and mindfulness on risk aversion of individual investors. Current Psychology. https://doi.org/10.1007/s12144-021-02015-9