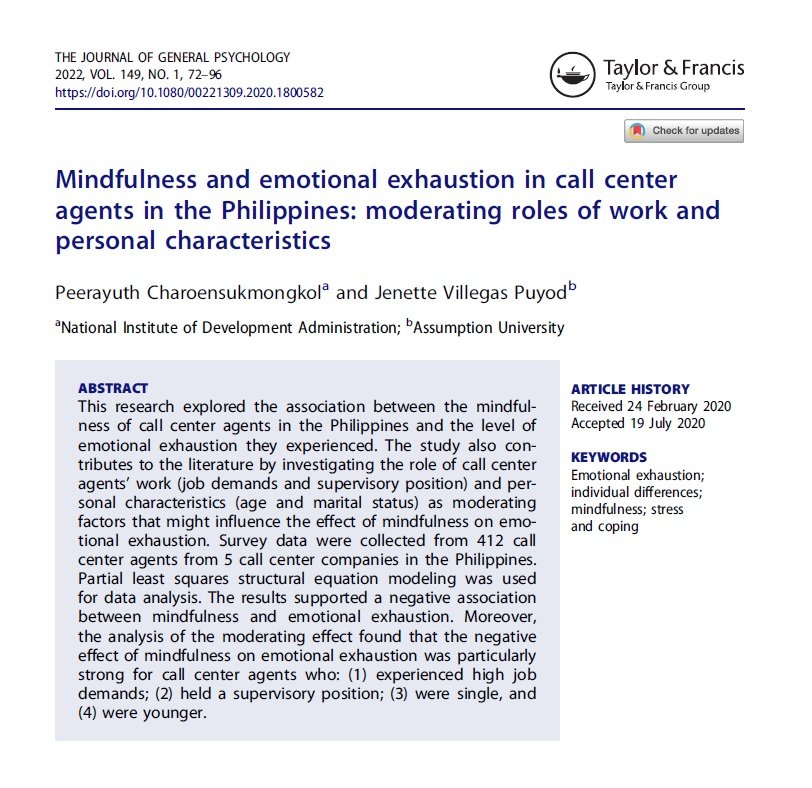 Call center agents usually experience stress because they need to meet growing customer expectations, unpredictable demands and workloads. These agents may be emotionally troubled because they must cope with challenging customers and at the same time deliver excellent customer service to uphold their organization's standards. Given the harmful consequences of emotional exhaustion on call center personnel and organizations, it is crucial to understand certain personal characteristics of individuals that might prevent emotional exhaustion at work. One such individual characteristic that has been proposed frequently in research to help employees manage psychological stress in a workplace effectively is "mindfulness".
     In particular, this benefit of mindfulness in the context of call center industry has been unveiled in the research of the ICO NIDA's faculty member, Associate Professor Dr. Peerayuth Charoensukmongkol, which is published in "the Journal of General Psychology" (Scopus/Scimago Q2). The research was coauthored with the ICO NIDA's alumni, Dr. Jenette Villegas Puyod.
     Their research collected survey data from call center agents working at five business process outsourcing units in the Philippines. The results they obtain clearly show that call center agents who possess a higher level of mindfulness tend to experience a lower level of emotional exhaustion. However, their results additionally show that not all groups of call center agents tend to benefit from mindfulness in terms of stress reduction to the same extent. They found that the negative effect of mindfulness on emotional exhaustion of call center agents is particularly strong for (1) those who experience high job demands, (2) those who hold a supervisory position, (3) those who are young, and (4) those who are single. For these four groups of agents, the higher the quality of mindfulness they possess, the lower the level of emotional exhaustion they experience.
     In the end, their research recommends that the companies that operate call center business may need to provide mindfulness training for employees to help them develop and/or improve their quality of mindfulness. A mindfulness exercise, such as meditation, could be offered to employees during breaks or before or after work hours to help them relax from work strain. The training should be required particularly for those who hold a supervisory position and those who work in a job function that involves a heavy workload. Moreover, companies may make the training mandatory for young employees and for those who are single. As these two groups tend to be less emotionally mature, mindfulness training might be a more effective intervention that helps reduce the probability that they will experience the emotional exhaustion that can occur easily in their jobs.
Reference
Charoensukmongkol, P., & Puyod, J. V. (2022). Mindfulness and emotional exhaustion in call center agents in the Philippines: Moderating roles of work and personal characteristics, The Journal of General Psychology, 149(1), 72-96. https://doi.org/10.1080/00221309.2020.1800582