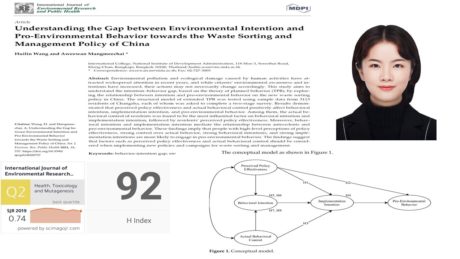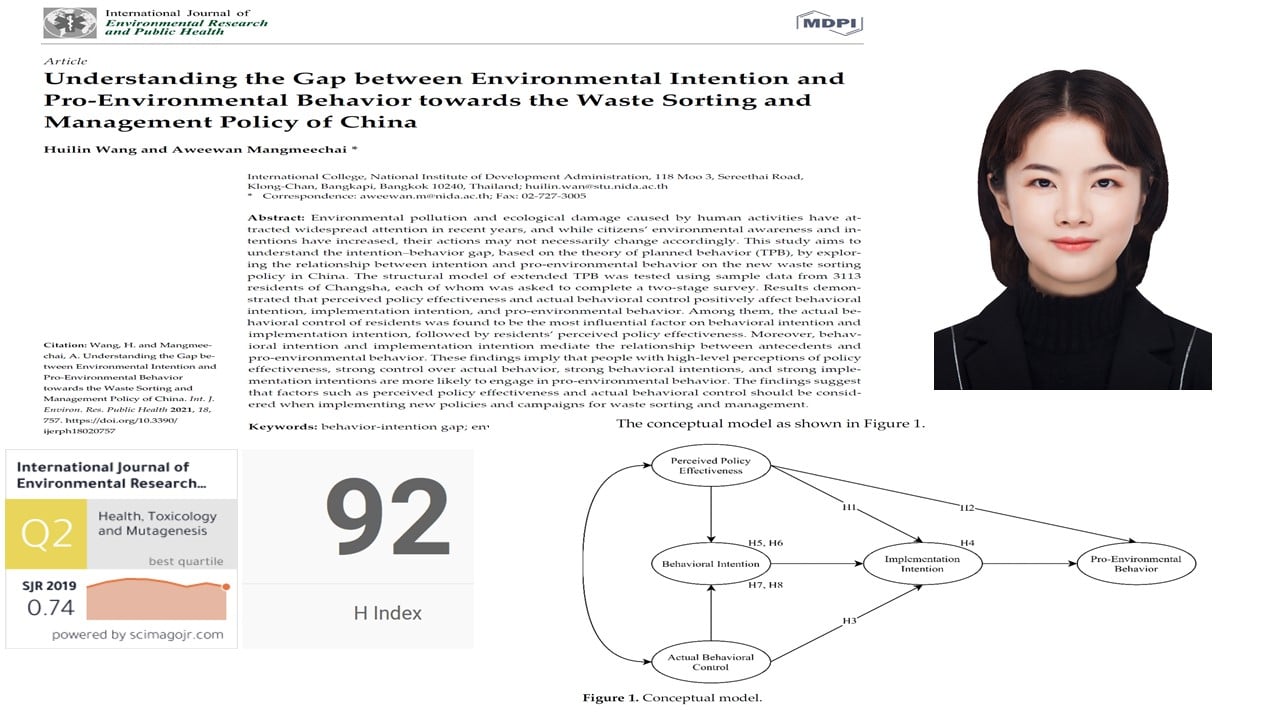 Ms. Huilin Wang, a recent Ph.D. graduate of ICO NIDA, published a part of her dissertation in the International Journal of Environmental Research and Public Health which is ranked in the "SCImago Quartile 2".
     Her research aims to understanding the gap between Environmental Intention and Pro-Environmental Behavior towards the Waste Sorting and Management Policy of China.
     Environmental pollution and ecological damage caused by human activities have attracted widespread attention in recent years, and while citizens' environmental awareness and intentions have increased, their actions may not necessarily change accordingly. This study aims to understand the intention–behavior gap, based on the theory of planned behavior (TPB), by exploring the relationship between intention and pro-environmental behavior on the new waste sorting policy in China. The structural model of extended TPB was tested using sample data from 3113 residents of Changsha, each of whom was asked to complete a two-stage survey. Results demonstrated that perceived policy effectiveness and actual behavioral control positively affect behavioral intention, implementation intention, and pro-environmental behavior. Among them, the actual behavioral control of residents was found to be the most influential factor on behavioral intention and implementation intention, followed by residents' perceived policy effectiveness. Moreover, behavioral intention and implementation intention mediate the relationship between antecedents and pro-environmental behavior. These findings imply that people with high-level perceptions of policy effectiveness, strong control over actual behavior, strong behavioral intentions, and strong implementation intentions are more likely to engage in pro-environmental behavior. The findings suggest that factors such as perceived policy effectiveness and actual behavioral control should be considered when implementing new policies and campaigns for waste sorting and management.
     Her research was under close supervision and guidance of her thesis adviser, Assoc. Prof. Dr. Aweewan Mangmeechai Panyagometh.
Reference :
Wang, H. and Mangmeechai,A. Understanding the Gap between Environmental Intention and Pro-Environmental Behavior towards the Waste sorting and Management Policy of China. Int. J.Environ. Res. Public Health 2021, 18, 757. https://doi.org/10.3390/ijerph18020757
Abstract: https://www.mdpi.com/1660-4601/18/2/757
PDF Version: https://www.mdpi.com/1660-4601/18/2/757/pdf
Manuscript: https://www.mdpi.com/1660-4601/18/2/757/manuscript (available to authors after login)
Special Issue: https://www.mdpi.com/journal/ijerph/special_issues/ITSEWW